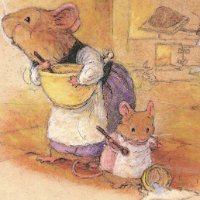 About This Club
Welcome! You have found the club for anything you can make in the kitchen to eat. Here we will be sharing recipes that nourishes our inner child. Come join to learn new ideas and have fun! If we get enough members participating, we can try out having monthly food themes or cooking challenges.
What's new in this club

Erasmeus71 joined the club

Mr. Grinch joined the club

i love a good Arroz con leche

New recipe I tried out and sharing here! This version is vegan (my preference) but you can switch the ingredients to regular dairy milk and honey. Servings: 4 Source: Vegan Arroz con Leche-The Almond Eater 🍚INGREDIENTS🍚 1 1/2 cup white rice 2 c water 3 whole cinnamon sticks 3 c dairy free milk (soy or oat milk work best) 1/3 c maple syrup (2 TB regular sugar if you prefer) 1/2 tsp vanilla extract ground cinnamon 🍚INSTRUCTIONS🍚 I first like to rinse my rice and drain until clear. Add the rice, water, and cinnamon sticks into a large saucepan. Bring to a boil for 8-10 minutes or until rice has absorbed water. Remove the cinnamon sticks and discard. Mix in the milk, syrup, and vanilla. Bring to a boil again, stirring to prevent rice burning the bottom of the pan. Reduce heat to a simmer for 15-20 minutes. Taste test and add in what extra you need such as more sweetener or milk. I sprinkled a bit of salt on mine. Serve warm and with some ground cinnamon sprinkled on top. Chill in the fridge if you prefer cold. Store leftovers in an airtight container for up to 5 days in the fridge.

Astridmoonrider joined the club

BabiiJayy joined the club

I got a copy of this from Top Secret Recipes. My favorite soup at Olive Garden is their minestrone 😋 In fact, this version is the only kind that I like. I have been making this for years, it's so good!! This is a good way to get a variety of veggies in your meal 🥕🥬🧄🧅🍅🌿 Servings: 8 Ingredients 3 TB olive oil 1 cup minced white onion (about 1 small onion) 1/2 cup chopped zucchini 1/2 cup frozen/fresh cut green beans 1/4 cup minced celery (about 1/2 stalk) 4 tsp minced garlic (about 4 cloves) 4 cup vegetable broth 2 15-ounce can red kidney beans, drained 2 15-ounce can small white beans or Great Northern beans, drained 1 14-ounce can diced tomatoes 1/2 cup shredded carrots 2 TB fresh parsley or 2 tsp dried 1 1/2 tsp oregano 1 1/2 tsp salt 1/2 tsp black pepper 1/2 tsp basil 1/4 tsp thyme 2 bay leaves 3 cup water (less if you want thicker soup) 4 cup fresh spinach 1/2 cup small seashell pasta Instructions Heat olive oil over medium heat in a large saucepan or stockpot. Sauté onion, zucchini, green beans, celery, and garlic in the oil for 5 minutes or until onion begins to turn translucent. Add broth to pot, plus drained beans, tomatoes, carrots, spices, bay leaves, and hot water. Bring soup to a boil, then reduce heat and simmer for 20 minutes. Add spinach leaves and pasta. Cook for an additional 20 minutes or until desired soupy thickness. * Each serving is about 1 to 1 1/2 cup. Grate your choice of cheese 🧀 over the soup and enjoy it with some crusty bread 🥖 Garlic bread is even better!

baby.bear joined the club

BlackRose29 joined the club

This makes A LOT of soup; about 10-12 servings. I like to freeze half of it in portions to enjoy again later on. Warning about the beets, they are very juicy and can leave bright red stains. Be ready for your workspace to look like a crime scene. 😆 So, let's put on your apron, find the biggest pot you got in your kitchen, and get cooking! 👨‍🍳👩‍🍳 Ingredients: 🍲 2 large or 3 medium beets, thoroughly washed 🍲 2 large or 3 medium potatoes, sliced into bite-sized pieces 🍲 4 TB of cooking oil 🍲 1 medium onion, finely chopped 🍲 2 carrots, grated 🍲 1/2 head of cabbage, thinly chopped 🍲 1 can kidney beans with their juice 🍲 2 bay leaves 🍲 10 cup water and 6 cup broth to get 16 cup liquid total 🍲 5 TB ketchup 🍲 4 TB lemon juice 🍲 1/4 tsp freshly ground pepper 🍲 1 TB chopped dill Instructions: Fill a large soup pot with 10 cups of water. Add 2-3 beets. Cover and boil for about 1 hour. Once you can smoothly pierce the beets with a butter knife, remove from the water and set aside to cool. Keep the water. Slice 3 potatoes, add into the same water and boil 15-20 minutes. Grate both carrots and dice one onion. Add 4 TB of cooking oil to the skillet and sauté vegetables until they are soft (7-10 minutes). Stir in ketchup when they are almost done cooking. Thinly shred 1/2 a cabbage and add it to the pot when potatoes are halfway done. Next, peel and slice the beets into match sticks and add them back to the pot. Add 6 cups broth of your choice, lemon juice, pepper, bay leaves and can of kidney beans (with their juice) to the pot. Add sautéed carrots and onion to the pot along with chipped dill. Cook another 5-10 minutes, until the cabbage is done. Serve with a dollop of sour cream or mayo. I like to use plain Greek yogurt for more protein. Sprinkle in salt to your liking. This version of Broscht is vegetarian or can be vegan with plant based dairy alternatives. Share below the variations you like!

Little Dandelion joined the club

now i got some stuff to try out

Source: Vegan Ramen | Olives for Dinner

Packing myself an adult "lunchable" is a subtle way to indulge my little side while at work. Source: How to Pack the Adult "Lunchable" + VIDEO - Hungry Hobby

S Source: Six Easy Bento Box Lunch Ideas - Six Combos To Make For Busy Moms (andianne.com)

A lunch to keep chilled in a quart sized jar. Of course, a regular plastic container works fine if you are clumsy like me who tends to drop things. 😅 (I have shattered plenty of mason jars before) The dressing is always at the bottom with the heavier ingredients and then the greens at the top. To serve you give it a shake and dump out into a bowl 🥗 These are some ideas to get you thinking on variety. Just about any salad combo should work with this method.

HIGH PROTEIN PEANUT BUTTER BANANA OVERNIGHT OATS source: High Protein Peanut Butter Banana Overnight Oats | Ambitious Kitchen 🍌1 large ripe banana 🥜1 banana sliced 🍌1/2 tsp cinnamon 🥜1 1/4 cup milk (dairy or nondairy) 🍌1 TB chia seeds 🥜1 cup rolled oats 🍌1 (5 oz) cup vanilla yogurt (your choice of brand that is high protein and low sugar) 🥜2 TB peanut butter (or other nut butter) Mash the ripe banana and whisk in almond with the yogurt Stir in rolled oats, cinnamon, & chia seeds Cover & refrigerate for 4 hours or overnight Layer in your overnight oats, PB & sliced bananas in a bowl or jar For toppings you can sprinkle coconut flakes, mini chocolate chips, nuts, or hemp seeds.

This is one of my favorite breakfast foods but I'm on the lookout for healthier versions that have less cholesterol and healthier fats. This recipe I have tried and can confirm, cashew milk is a great substitute for regular milk while still getting that yummy creaminess! Source: Vegan Buttermilk Biscuts & Country Gravy - The Simple Veganista (simple-veganista.com) Serving: 4-6 Buttermilk Biscuits (you can skip making these if you prefer bagels or toast of your own choice) 2 1/2 cup flour 1 TB baking powder 1/2 tsp baking soda pinch of salt 4 TB vegan butter 1 cup unsweetened cashew milk Juice of 1 lemon (1 TB) Country Gravy 5 TB vegan butter/oil 7 TB flour 1 vegan sausage minced (tofurky or field roast) pinch of garlic powder 1/2 tsp poultry seasoning 1/8 tsp nutmeg 4 cup unsweetened cashew milk salt and black pepper to taste Instructions Gravy: in a medium sized pot heat oil over medium-high heat, add flour and stir for 2-3 minutes, until it turns light golden brown. Add the garlic powder, poultry seasoning and nutmeg, mix well, add in the sausage and stir another minute or so. Mixture will form a ball of sorts. Slowly add the milk and continue to stir, bring just to a boil, reduce heat to medium and continue to cook, stirring constantly, until gravy has thickened to desired consistency, about 10 minutes. Use the back of the spoon/fork to help break up the sausage if needed. Gravy will thicken a bit more as it cools. Season with plenty of pepper and salt to taste. Set aside with lid on, or slightly askew stirring every now and then until ready to serve. If gravy cools too much, heat over low until warmed. Biscuits: Make your buttermilk by combining the cashew milk with the lemon juice. Let set for about 10 minutes. Preheat oven to 415 degrees F. Lightly flour a flat surface. Leave a little extra flour on the side for your fingers and biscuit cutter. Line a baking sheet with a silpat or lightly grease with oil. In a bowl, add the flour, baking powder, baking soda and salt, mix well to combine. Add the chilled butter and cut it into the flour using a pastry blender or the back of a fork. You'll know it's ready with the butter is about pea sized and the mixture is crumbly looking. Add in the buttermilk and mix until just combined, making sure there are no flour patches. The dough should form into a rough ball, it should be tacky not sticky. If mixture is too wet and sticky, add a little extra flour and mix just as needed. Place dough on the prepared floured surface, pat it down into a rough circle or rectangle about 1 inch thick, fold dough onto itself. Repeat 2 more times (this will make for flaky biscuits). Add extra flour to your fingers or dough as needed. Gently flatten the dough to about 3/4 inch thick. Using a 2 1/2 inch cookie cutter, place cutter in the reserved flour, tap the cutter on the flat surface to remove any excess and press the cutter into the dough, repeat. As much as you feel you want to, do not twist the cutter in the dough as it crimps the edges and will interfere with proper rising. Place biscuits on prepared baking sheet, brush with a little olive oil or cashew milk over top if you like. Place in the oven on the middle rack for 15-18 minutes. Makes about 10 biscuits Serve: Split the biscuits open face and serve gravy over the top. Enjoy often!

honeydarling48 joined the club

I love the colors and SPRINKLES Thank you for sharing, @Vampiress! This recipe is a must-have!!

1

This is a recipe I just found for Unicorn Hot Chocolate that I knew I had to share immediately! You can also swap out the ingredients with your favorite non-dairy milk to make it vegan friendly! Link: https://princesspinkygirl.com/unicorn-hot-chocolate

1

Ohh let us know how it turns out!

Going to make this soon thank you!

Saw this and thought I'd share! Some tips I saw for it: f you have infused honey it will elevate the taste. We've used pecan coffee infused honey as well as chocolate mint honey. Store any leftovers in an airtight container in the fridge. Also adding that it is similar to shortbread and can be made in molds. If anyone wants to make the truely filling modern lembas bread, substitute 1 and a half cup amaranth flour, half a cup almond flour and half a cup coconut flour for the two and a half cups, also if you're making gluten free, add an egg. Another said lembas bread was made with corn flour. I'm not sure if there's other better versions of the recipe out there, but this sounds yummy!